As I have said before, I am a fan of the modern American V8 engines.  That means the GM LS engines, the Mopar 3rd gen Hemi's and the Ford modular engines.  And I am a fan of engine swaps that include them.
I have actually not seen that many swaps with modern engines.  Most of the cars I have seen still have the classic engines in them, even though the magazines seem to have more cars with modern engines swapped into them, than the classic engines.
From the magazines perspective, that makes a lot of sense.  It is something new, and it is easier to find something new to write about an LS engine than it is a traditional small block Chevy.
There are some drawbacks however.  If there weren't, everyone would be doing engine swaps with newer engines.  The main one is cost.  It is more expensive to get all the pieces you need to put a 5.3 in a classic Chevy than it is to rebuild a 350 and put it in there.
There are some times though were it can be cheaper.  Say you want a Hemi.  If you are looking at a 426 Hemi, you better have some deep pockets to be able to afford one.  A quick look on Summit Racing shows that a Mopar 426 Hemi crate motor starts at about $16,000.  You may be able to find a Hemi for less, but that is a decent estimate.  Otherwise I will get side tracked looking at crate motors I can't afford for a car I don't have and not get this written.
Although it does look pretty awesome:

And  third gen Hemi has some great power potential, and can use the magic Hemi badge for a lot less money.
I know there are people who say it isn't a real Hemi.  And it is true, the chamber on the head isn't a true hemisphere: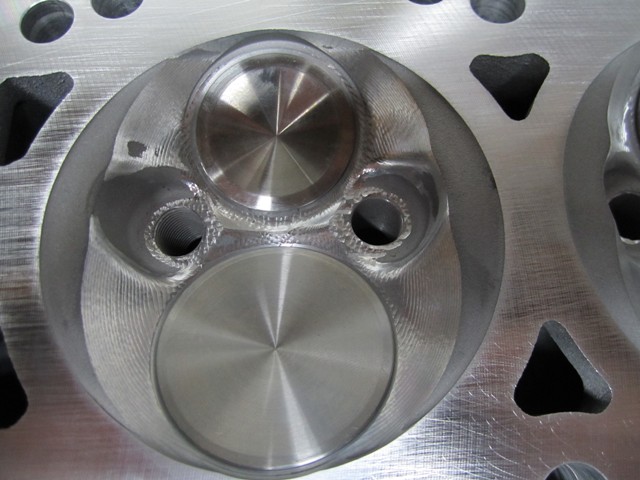 But those quench areas were actually a suggestion from Tom Hoover, who was a big part of the second gen Hemi design.  Plus they help with the emissions by reducing the surface area of the head.  And they reduce the chamber volume in the head, so the pistons don't need as much of a dome to get a good compression ratio.  That means lighter pistons.  Seems like a good trade off to me.  I don't remember what youtube video I saw it on, but someone said those that say the 5.7 isn't a real Hemi, need to get a real life.  It is a small thing, and I think it actually makes for a better design over all.
Now I will admit that the new engines don't look as good as the old one.  Look at this Chevy for example:
Now compare that to the LS engine:
Even without all the plastic covers, and with a carb instead of fuel injection, it looks rather industrial.  So the modern engines are designed to run well, make power, get good fuel economy, meet emissions and be durable.  I can see why they don't really care what they look like.  And the plastic covers help keep the engines quieter so they can meet the noise regulations.
And yes, they are more complex.  The old engines just needed power to the distributor/coil, a fuel line and exhaust and they would run.  The new ones seem to need a degree in electrical engineering to get them hooked up and running.  But that is the trade off to have a fuel system that automatically compensates for changes in weather, load and RPM.
Not having extra fuel being dumped into a engine is a large part of why the engines last so much longer today.  That and they can be built to tolerances that were beyond what race engines could be built at back in the 60's.
Another issue is emissions.  I read that in California to swap an engine into a vehicle, the donor engine must be the same year or newer than the destination engine.  Plus you can't put a truck engine into a car.  That doesn't seem like a big deal, but a lot of the modern V8's that are out there now are in trucks.
I can see the reasoning.  Trucks don't meet the same emissions standards as cars do.  But I highly doubt that a 2000 Chevy pickup with an LS engine is going to pollute more than a 60's Chevy.
Plus you have to keep the whole emissions system of the newer engine intact.  That means the catalytic converters, evaporative emissions and all that.  That makes it a lot more complicated since classic cars didn't come with any of that.
I don't know how many states follow the same rules regarding swaps as California, but I do know that all those rules add a lot to the cost of a swap.
That is too bad, because a modern motor in a classic car has a lot to offer.  I know the 5.7 Hemi when measured on a dyno like you would measure one you built puts out about 400 HP stock.  That is because of the differences in the accessories on the engine, and they way they are measured.  But that plus a cam swap, and you are 450+ HP with an easy to live with engine.  The LS engines are similar.
The Ford modular motors are not quite so HP friendly, but forced induction can fix that:
Ford even made them that way.
Another drawback to the Hemi and the Ford motors, is size.  With the Hemi heads on the Mopar, and the OHC heads on the Fords, they are wider than the standard small blocks.  They are lighter, but due to the heads, they end up being wider.
Plus, a lot of people like to stick with what they know.  The computerized fuel injection in modern car engines is complicated, and you either need to find someone to tune it for you, or learn how to do it yourself.  And it is possible to damage your engine if you do it wrong.  That is a big thought for people.
Even with the draw backs, I would love to have a Duster with a 6.1 Hemi in it.  Or a Charger.  Either way, a modern Hemi would make for a very fun car.
And the 1966 Impala in our garage would make a great place to swap a 5.3 LS engine.  Although it wouldn't gain much for power, it would for driveability.  Too bad it isn't in the budget right now.  Maybe some day.
How about you, what do you thing about modern engine swaps?